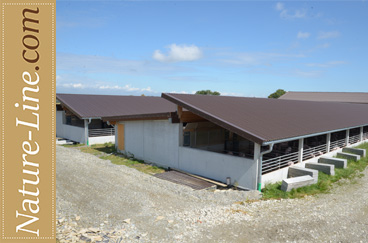 Natu­re­Line – Schauer low-emis­sion finis­hing house for animal welfare
Natu­re­Line – Schauer low-emis­sion fattening / finis­hing house for animal welfare – is a deve­l­oped Swiss concept of 3-zones stable. Ther­mally insu­lated lying-down area is desi­gned so that it can be walked in and has adjus­table pen elements. The pigs have an access to the roofed outdoor area for feeding and placing manure through the exit door. In the conven­tional pig farms an overall parti­cu­larly low-cost and effi­cient farming system can be attained with a space requi­re­ment of only 1,1 m² per fattening pig. Higher space requi­re­ments of the brand programs can also be fulfilled.

Many invest­ment subsidy programs support the concept and make funding rates up to 40% of the invest­ment sum possible. Each of liquid, dry and Spotmix feeding can be used here as feeding system.
The outdoor floor area is partly conti­nuous solid. In order to reduce the ammonia content in a stable up to 56 %, liquid substance is sepa­rated from the solid one of the phase through manure gutter in a slurry channel and imme­dia­tely taken out. Due to a better animal health the perfor­mance impro­ve­ments are evidenced in France for similar solu­tions in compa­rison with conven­tional animal houses with fully slatted floor.
NEW: Welfare Pigsty with no slurry and no maure
The "liquid manure-free" pig pen - an inno­va­tive complete system desi­gned to avoid manure and ammonia emis­sions when produ­cing finisher pigs (Euro­tier 2018)