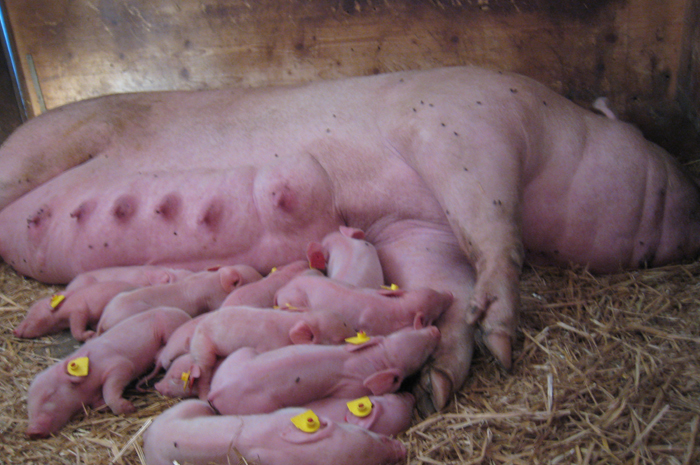 Free farro­wing system of Wels
The key element of the " Farro­wing pen system of Wels" ist the farro­wing box with 2,00 m x 2,20 m in size. The box is made of three-layer panels (58 mm) and covered with a heatable lid during a cold season. Atta­ched to this piglet nest provides with 1,1 m² place for all piglets during the 6-week suck­ling period and due to the lid heating – optimal tempe­ra­ture control. For feeding a sow must leave the lying area and enter the feeding stall.
Thus the lying area remains clean and dry. There are drin­king troughs as well as a rack for fodder (hay, silage) in the outdoor area. So the outdoor area becomes an attrac­tive func­tional area, and for drop­ping of dung and urine too. Both sow and the piglets can be well observed because the piglet nest and sow feeding place are posi­tioned facing a service gangway. For a dung removal the sepa­ra­ting grid is closed, whereby piglets and sow are auto­ma­ti­cally locked up in the lying box or in the feeding stall. The stages on both sides protect the house equip­ment (drin­king troughs, hay racks, sepa­ra­ting grid) and enable easy dung removal by means of yard tractor.
Pictures Welser farrowing, Thalheim